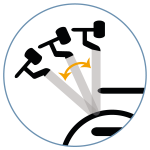 Dynamic back support
The Dynamic back solution will allow small as well as extreme upper body movements. Allowing these movements and supporting the user back in the original resting position when tone decreases, will help the user maintain the optimum seating position, prevent sliding and shearing and lowering the need for repositioning. Our flexible back solution comes in 2 different types.
When extreme upper body movements are the challenge, the dynamic back support needs to be assisted with dynamic seat plate, hip belt as well as leg supports.

Various solutions and strenghts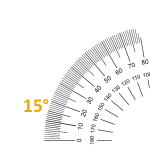 For restless users
For the back solution with 15° angle you can choose between 3 different strengths (80, 120 and 160 N). The standard recline is maintained and can be adjusted in any position. The Dynamic gas spring cannot be blocked. Recommended for stiffness patterns which tend to persist, spasticity, and also for comfort and prevention.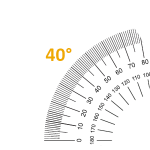 For severe and sudden movement patterns
The back solution with 40° angle is lockable and comes in strengths between 200 to 1300N. The standard back recline can be locked in any position as the dynamic movement is blocked simultaneously, which can be appropriate during transport or positioning. The Dynamic Free gas spring is recommended for severe extension patterns, also for violent and sudden movements.
The locking function has advantages in eating situations and is necessary if the chair is used as a seat during car transport. If you need the locking function but want a smaller angle, Netti can supply the chair with recline limiters.
The choice of strength of the gas spring will be depending on the individual user situation, the user weight and the adjusted angle of the seat. Please contact your sales representative for an individual assessment.
For users with a movement pattern that causes hip extensions – and thus risk of sliding out of the seat – please consider a Netti Dynamic wheelchair with a dynamic seat unit.
Complete dynamic wheelchairs
Wheelchairs with dynamic solutions