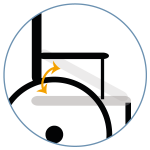 Dynamic seat unit
An essential part of the complete Netti Dynamic chairs is the dynamic seat unit. The seat plate will adjust to the user's extension movements letting the wheelchair work in synergy with the movements.
Our Dynamic chairs are always equipped with a pelvic stabilizer from Body Point to support the function of the dynamic seat plate and to prevent sliding and actively stop a negative seating position.
Freedom of movement will provide the user with a better seating position. With the dynamic seat unit, the user is guided back to the original seating position and in this way we prevent/reduce shear- and pressure forces, which are some of the main factors causing pressure ulcer.
For security reasons the seat plate can be locked during transport or when driving on uneven roads.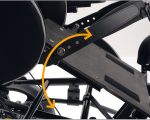 Complete dynamic wheelchairs