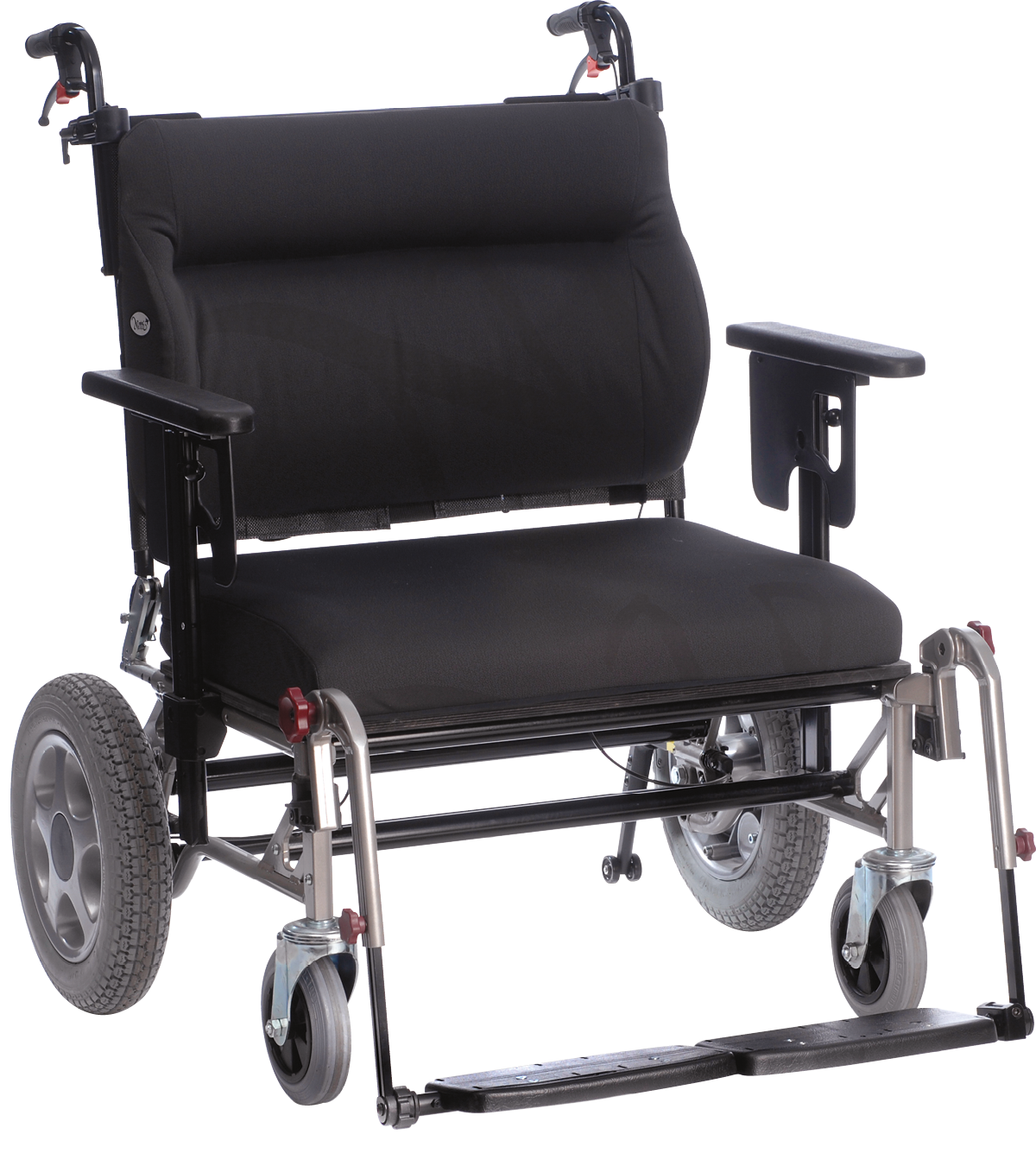 Netti 450 F
During the last years, we have seen a steadily increasing demand for solutions for bariatric users. Our experienced technicians and technical consultants can customize wheelchairs to meet most needs. For example, we can supply reinforced wheelchairs with seat widths up to and above 100 cm and for a user weight up to 450 kg. These include the two 450 models. Netti 450 F Back support manually adjustable in three different angles
For bariatric users it is of high importance that the back and seat can be adjusted to different body shape, as many large users will experience problems with standard seating solutions. Netti Seating System is designed both to cope with high user weight and optimum pressure distribution.
Seat width up to 1000 mm
User weight up to 450 kg
Back support manually adjustable in three different angles
Configuration possibilities
Specifications
Downloads
Configuration possibilities
In the following tabs you will see generalized configuration possibilities for our Netti 450F - but we strongly believe that the wheelchair should be adapted to the user and not vice versa.
Netti 450F is a customized special adaptation - please use our request form to receive a quote that fits the specific needs of your user.
= Standard configuration
= Option
= Not possible
Angle adjustable leg support with calf support and footplates:
Netti Grandis leg support:
Netti Dynamic leg support:
Adjustable extension pieces:
Abduction leg support +50 mm:
Electric angle adjustable leg support:
Back cushion options possible:
Pelvis stabilizer and other belts from BodyPoint:
Upper body support from Netti and Bodypoint:
Height and depth adjustable armrest:
Netti Dynamic head support:
Aluminium head support adapter:
Netti Dynamic head support:
Netti Dynamic seat plate:
Netti Dynamic leg support:
Anti tippers without pedal:
Ad on drive and Powered assist
Wipeable Easy Care cover:
Device rack for medical aids:
= Standard configuration
= Option
= Not possible
= Standard configuration
= Option
= Not possible
Seat width:
500, 550, 600, 650, 700, 750, 800, 850, 900, 950, 1000 mm
Back height possibilities range:
550 mm
Seat height range measured to seatplate:
430 mm
Weight of wheelchair without cushions:
50 kg
Recline angle:
80&deg, 94&deg, 104&deg
Leg support length with standard leg support:
360 - 500 mm
Width added to seat width with standard wheels:
200 mm
Arm support height (from seatplate to armpad):
185 - 325 mm
Allowed as seat in a car:
= Standard configuration
= Option
= Not possible

Mobility

Socializing

Less pain