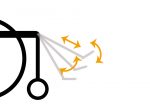 Dynamic leg supports
The Netti Dynamic leg supports allow controlled open kinetic chain movements of the lower extremities of the user. Unlike static leg supports, the user's movements will be supported throughout the movements and when tone decreases, the lower extremities are guided back to their resting position. The leg supports have built-in gas springs to adapt to the movements of the user. The leg support does not only accommodate the extension movement in the knee joint, it will also support the pushing movements along the tibial axle and the flexion-extension movements of the feet.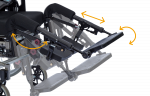 Accessories for dynamic leg supports
The dynamic leg support is available with adjustment pieces in two lengths as it is important to have the leg support fitted to the lower leg length of your user. For users with pelvic obliquities, an extension bracket for the foot board is available.
Other accessories like ankle huggers, comfort pads for the calf supports or a reinforced lock for the foot board are also available.
To prevent users from sliding, a complete dynamic solution with dynamic back and seat should be considered.
For children with involuntary movement patterns, please see our Netti Dynamic S.
Compete dynamic wheelchairs
Wheelchairs with dynamic solutions