Netti V is the solution even if the user gains weight or no longer can propel the chair by hand
The unique design of Netti V ensures, that the wheelchair can be used by the user for a long time – also when the needs change or the user grows, gains weight or looses weight.
The same wheelchair can be adjusted to active users as well as passive users by simply adjusting the chair – no extra parts are needed.

With Netti V, you have many different adjustment possibilities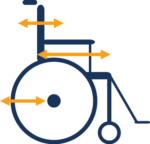 Balancing point according to user needs
The unique design makes it possible for you to move the whole seating unit stepless backwards or forwards on top of the wheelframe to achieve the best balance point for the specific user.
Futhermore, you can change the wheel foot print (the distance between the castors and main wheels by 125 mm to optimize the stability and the ease of driving of the wheelchair.
The back support can be moved 25 mm backward / forward if extra balancing is needed.

The same wheelchair can be used for a long time
No need to change wheelchair when the user's activity level changes or by changing body messurements