Netti V is designed for the perfect fit
With the Netti V, we have combined the benefits of an active wheelchair and a comfort wheelchair. This allows for good driving characteristics, whether users can drive themselves or need to be pushed. With the large tilt angle, the user can relax during the day.
The design makes it easy to adapt the chair to changing user needs or to new users – often even without having to add new accessories or spare parts.
100 mm seat height flexibility without changing wheels or adding parts
30° tilt for easy change of seating position and pressure distribution

Unique seat height flexibility
The unique design of the Netti V makes it possible to change the seat height
Adaptable to the user's activity level without changing parts
Achieve low seat height with large wheels for a comfortable ride
No need to change the wheel position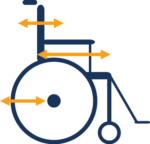 Adjust the balance point as needed
The unique design allows you to move the entire seat unit stepless backwards or forwards on top of the wheel frame to achieve the best balance point. In addition, you can change the distance between the front and rear wheels by 125 mm to optimise stability and wheelchair manoeuvrability.
The back support can be moved 25 mm backward / forward if extra balancing is needed.
Customize to the user
The Netti V is designed to make it easy to customise the wheelchair to the user on site. Without any extra parts, you can adjust the seat unit (seat height, seat depth, seat width) as well as the leg supports, head support and backrest. This ensures a perfect fit.

Customisation to asymmetric seating positions
Stepless sideways adjustment of the head support, asymmetric backrest shape and the possibility to use the built-in leg abduction accommodate different asymmetries.
Read more about adjustment for asymmetries
Long lifespan
Thanks to its flexible design, the user can use the same wheelchair for a long time. There is no need to change the wheelchair if the user's activity level changes or for minor changes in height and width.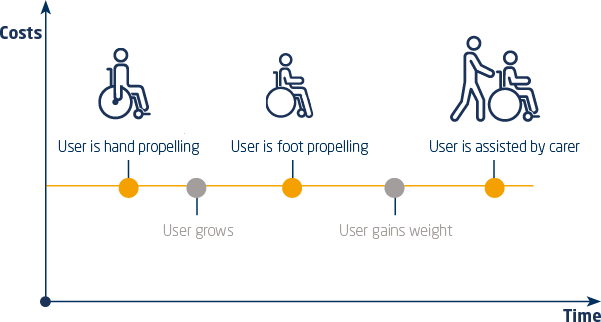 Many configuration options
With Netti V, you have great flexibility with the individual wheelchair, and in addition, most of the configuration options can be retrofitted at a later stage. The modular design ensures that you are able to customise the wheelchair to the user.
Some of the accessory options are:
Electric control of back and seat angle and leg supports
Dynamic back, head and leg supports
Device rack for medical aids
Wide range of leg supports
Wide range of seat and back cushions
Wide range of head supports

Time with friends and family

Mobility

Better communication