The answer to this question can vary a lot. For some users, the low weight, the removable leg supports or the width of the foldable chair are of great importance.
Our customer Chamilla from Denmark based her choice on the following reasons:
Quality
Stability
Easy to drive
User-friendly for helpers
Professional consulting advice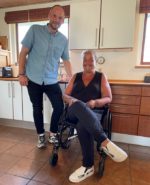 Trust and a conscious choice 
Chamilla has been using wheelchairs from Meyra for the past 23 years - which is a very conscious choice due to above factors. Our consultant Jacob Friis-Jensen just supplied her with a new foldable Meyra Smart S wheelchair. The chair is used in daily life as well as on Chamillas yearly adventures around the world.
How Chamilla uses the chair
The Smart S wheelchair is mostly used without leg supports as Chamilla propels the chair with her feet. The leg supports are brought along on longer trips or when Chamilla travels.
We hope that Chamilla will have lots of adventures and experiences in her new Smart S in Denmark and around the world.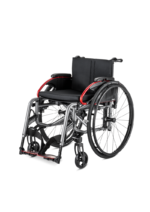 Combining lightness and perfect handling in an innovative design
Some details about Chamillas Meyra Smart S:
Color: Blackstar
Wheel: Blacklight aluminium
Arm support aluminium carbone inlay
Seat cushion: hard foam
Read more about the Meyra Smart S.