The good seating position makes it possible to participate in everyday life
When Samuel was handed his new wheelchair, his spirits was high and both he and his parents were looking forward to using it.
The goal for him was to be able to sit in the wheelchair for a longer period of time without experiencing pain. Because Samuel wants to be there where it happens. There is a lot to experience when you are 10 years old.
Samuel did not have an optimum seating position in the old wheelchair and often complained that it hurt to sit. The balance of the head was challenged, and the seating position was generally no longer good. Driving and operating the electric functions of the seat did not work optimally.
The first focus has been to stabilize the pelvis with a special adapted foam cushion and to support Samuel's back and scoliosis with asymmetrical external side supports. Work has also been done on the lumbar support, which has been central to the balance of Samuel's head. Hip support in combination with the side supports also contribute significantly to this. An extra wide foot plate has been made, which allows for good support for the feet in order to provide maximum stability for the upper body.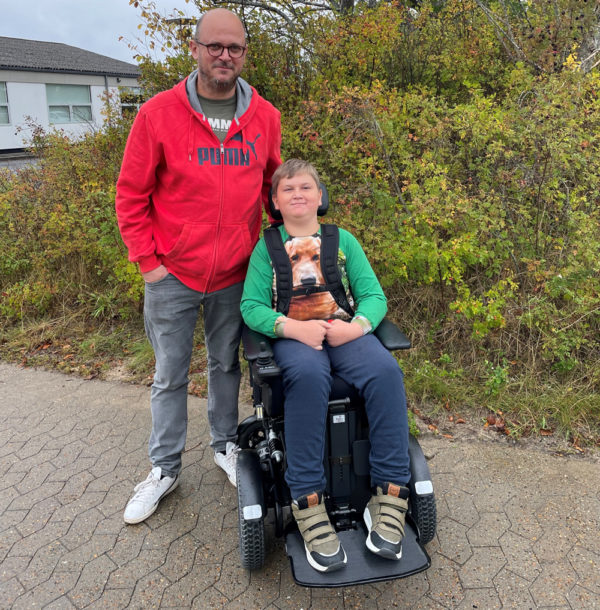 Samuel and his farther taking the chair for the first outside test-drive.
The wheelchair is a TA iQ FWD with traction on the front wheels, which makes it easier for Samuel to get around outside on uneven surfaces. At the same time the wheelchair has a very small turning radius, which means that he can easily drive inside the house or where space is tight.
The TA iQ FWD can "grow" with Samuel. It only needs to be adjusted continuously so that it fits him perfectly.
Dear Samuel, we wish you all the best and we hope you have lots of wonderful experiences in your new chair.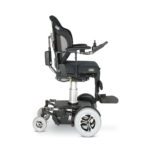 The TA iQ FWD
Unique suspension on all wheels, providing an extremely smooth ride with easy access over bumps, curbs and larger obstacles. Superior handling and comfort.
The TA iQ has the lowest floor to seat height of only 380 mm, allowing you to easily sit at a desk or table, or even drive a vehicle. The 300 mm lift allows you to reach higher cupboards, benches, basins etc.
The TA iQ is fast with a top speed of 12.5 km/h, which it will reach within 3 seconds. Also with an optimum range of 40 km you will travel further, faster.
Ideal for indoor and outdoor use
Driving range of up to 40 km
Speed up to 12.5 km/h
Gets you close to a table - seat height of only 380 mm
Enable eye-to-eye contact with 300 mm seat elevation
Learn more about the TA iQ FWD