MEYRA SMART S enables an active life in wheelchair
MEYRA SMART S – a folding wheelchair with a smart and simple look
Vallensbæk Municipality in Denmark and Michael contacted us as he needed a wheelchair to relieve him in everyday life. Michael is very active and has been doing weight training and crossfit at a high level for many years. An accident has resulted in a leg amputation above his right knee, but this has certainly not put an end to his active life.
One of the wishes for the wheelchair was therefore also good, stable driving characteristics and easy manoeuvrability. This is achieved with our MEYRA SMART S despite the cross frame construction. Therefore, Michael can hopefully soon return to his former work on a construction site.
Our consultant Jacob Friis-Jensen has adapted the chair to support the amputation stump on the right leg. The measurement and adjustment of the seat depth has played a major role in ensuring that Michael is well positioned in the chair.
The big wide front wheels mean I can ride better on uneven terrain, so it's suitable for my work and leisure.
— Michael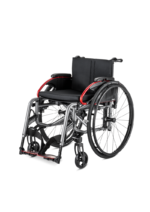 Some details about Michael's chair:
Frame colour: matt black
Wide tyres, rims, front wheels in black for a smart and cool look
Pushrim cover in black smooth silicone for a good grip
Reinforced aluminium armrests
Footplates are adjusted in different heights to provide the right support for both legs.
We wish Michael all the best and hope he will be happy with the SMART S wheelchair.
08-2022
Please feel free to contact us, if you would like to know more about our innovative SMART S cross frame chair.