Mathias gets a better seating position with an electric harness and abduction block
Mathias has had an electric harness retrofitted to his TA iQ wheelchair, as he is experiencing back fatigue. Mathias does not have the strength to maintain normal curves in his back while sitting. Without the electric harness, gravity will further affect the excessive curvature of the back over time, resulting in inappropriate strain on the body.  The power harness was considered when Mathias was first given the wheelchair about 1.5 years ago, but only now has the need become significant.
The power harness helps prevent Mathias from slumping forward in his lower back, thus ensuring that his back is held back against the backrest. The electric harness function ensures Mathias an optimal seating position, while allowing him self-determination and the freedom to move, as he can operate it himself with 0/1 switches.
Mathias has significant adduction above the hip in a seated position, and an abduction block is therefore fitted to help ensure a symmetrical seating position and better seated balance.
Position before mounting of electric harness


Mathias after adjustments of his chair


Mathias can adjust the electric harness himself by using the 0/1 switches under the arm support. This gives him the power of self-determination.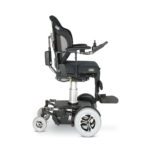 The TA iQ FWD
Unique suspension on all wheels, providing an extremely smooth ride with easy access over bumps, curbs and larger obstacles. Superior handling and comfort.
The TA iQ has the lowest floor to seat height of only 380 mm, allowing you to easily sit at a desk or table, or even drive a vehicle. The 300 mm lift allows you to reach higher cupboards, benches, basins etc.
The TA iQ is fast with a top speed of 12.5 km/h, which it will reach within 3 seconds. Also with an optimum range of 40 km you will travel further, faster.
Learn more about the TA iQ FWD