Being a nature guide in a wheelchair. Is that even possible?
Yes definitely!
When you choose an offroad electrical wheelchair that has a long range, can manage steep slopes and heigh curbs – an e-power chair Meyra Optimus 2 
Jesper is a nature guide at the Rediscovered Bridge by Horsens in Denmark, where the paths are uneven – and from time to time muddy. Jesper is a true nature lover and enjoys getting around in the area every day. Something that would not be possible with another choice of electric wheelchair.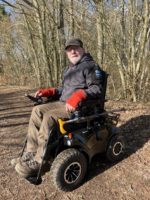 The configuration of Jespers Optimus 2 wheelchair:
Legrest, separated and swivel-away, removable
Armrest, height adjustable and removable
Speed 10 km/h
Mechanical seat inclination
Chassis color: Deepblack
Cover color: black textile
Manually reclining backrest 10°
Control panel with LCD display
Safety belt
ERGOSEAT Seat
ERGOSEAT Back
Walking stick holder
Luggage box, black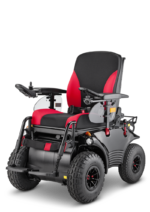 Combining lightness and perfect handling in an innovative design
More about the MEYRA Optimus
Strength and perfect driving attributes characterize Optimus. The powerful motor combined with two 110 Ah batteries, give Optimus a range of up to 70 km. In addition to power steering, Optimus is also equipped with suspension so that off-road driving easily can be done without problems. Optimus comfortably manages up to 18% slopes.
Read more about the Meyra Optimus 2.